Operation Christmas Child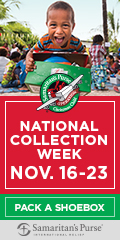 Operation Christmas Child display table is set up at the bottom of the steps of the sanctuary with shoeboxes and other information. Curbside service available if you want to come pick up shoeboxes. 
Shoebox Collection Drop off at the Lighthouse November 15 – 23. Schedule is posted on the Lighthouse door and the Samaritans Purse website.
Contact Ginny Gould if you have any questions.